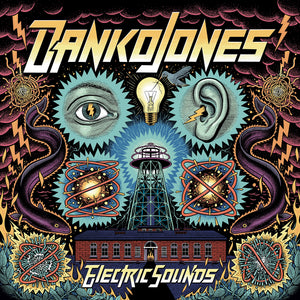 Danko Jones - Electric Sounds CD
Are you ready to rock? Do you want a good time? Do you want to get high? If the answer to any of those questions is yes (and it really should be), then the undisputed kings of balls-out rock'n'roll are back to provide maximum satisfaction. An elite, three-man squad, dedicated to the noble art of riffs, melodies and life-affirming rock anthems, Danko Jones are ready to serve up all the Electric Sounds you could possibly need. 
Over the last decade, Danko Jones have visibly moved up a few gears. Since frontman Danko and bassist JC joined forced with drummer Rich Knox, the band's creative fire has blazed more brightly than ever. A succession of all-killer, no-filler albums – Fire Music, Wild Cat, A Rock Supreme, Power Trio – has led to even more gung-ho touring and unapologetic service to the rock cause. In 2023, Toronto's archbishops of amplification release their 11th album, the Eric Ratz-produced Electric Sounds: proof that even a global pandemic couldn't stop Danko Jones. In fact, it just made them even more unstoppable.
From the chest-out chutzpah of the opening "Guess Who's Back" and the muscular new wave strut of "Good Time", to the title track's promise to "smash a thousand guitars tonight!" and "Stiff Competition"'s angular, cock-eyed stomp and juddering bull's-eye of chorus, Electric Sounds is a deceptively diverse affair. Meanwhile, no band has ever sounded more ready to hit the road than the pumped-up threesome showcased on hell-for-leather ragers like "Eye For An Eye", "What Goes Around" and mad-eyed and murderous closer "Shake Your City". Guest spots from Tyler Stewart (Barenaked Ladies) on "She's My Baby", Damian Abraham (Fucked Up) on "Get High?" and guitarist Daniel Dekay (from Canadian thrash legends Exciter) on "Electric Sounds" complete the picture with a snotty flourish.
Note: Any additional items ordered with preorder items will ship with preorder.
---
We Also Recommend