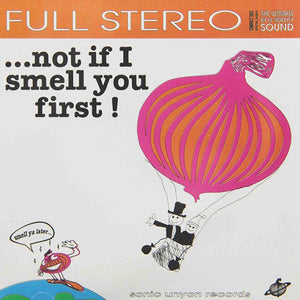 Various Artists - …Not If I Smell You First! CD
Revisit 1994 in all of its hazy, corduroy-trousered glory through this seminal sampler from that golden era. The 19-track comp, titled as a snappy comeback to the 7"comp that preceded it, is festooned with choice nuggets and deep cuts from some of the scene's premiere talents (and then some). Packed with crunchy melodies as sweet as a summer breeze, this eclectic disc is balanced with psych-rock vision quests, scuzzed-out fuzz and moments of primordial heaviness. A must.

01. hHead "Joking"
02. Sponge "Puffy Patagonia"
03. Tristan Psionic "25 Cents"
04. Grasshopper "Supervillain"
05. Sponge "Colourful Hat"
06. Shallow "Blowhole"
07. Tristan Psionic "3am"
08. Chris Thompson "Hard Feelings"
09. Eric's Trip "Evie"
10. Chris Thompson "???"
11. Gleet "Only Son"
12. Gorp "Someone Else's Mind"
13. Shallow "Odd"
14. Otis Haynes "Gimme The Keys"
15. nc17 "Cubicle"
16. Sponge "Juicehead"
17. Bogg "NoNoNoYesNo"
18. Shallow 'Stomp"
19. By Divine Right "Out Of It"
---
We Also Recommend