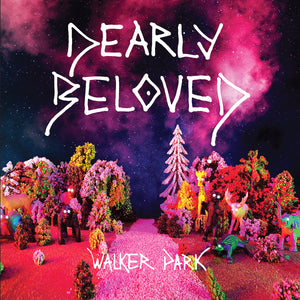 Dearly Beloved – Walker Park LP
Given that the band was born as an affirmation of life energy and an outlet for raw emotional expression, maybe it's inevitable that Toronto rockers Dearly Beloved would answer the weird silence of global pandemic with a roar. The relentless noisemakers emerge from two years of lockdown with the vivid, bracing Walker Park. 
The band's self-described "barrage rock" is both a clever bit of wordplay and a pithy statement of intent rooted in bedrock truth. For the past 16 years, the Beloveds' collision and fusion of pop and hardcore sensibilities, melody and menace, has offered up unabashed stoner rock sensibilities coiled like smoke around a magma core of psychedelic post-grunge. Walker Park anchors itself in the lessons learned over a 16-year career and launches the band on an exciting new trajectory. 
Opening with a nocturnal groover of a title track, Walker Park ramps up through the thundering blood-beat of "Trees Dream of You", before launching the adrenalized assault of "Explosions" (a full-throttle take on the Devo deep cut). Higgins' sinuous virtuoso bass lines, a mainstay of Dearly Beloved's catalogue, thread the session together, colouring the introspective "I Was Here", underpin the knifing riffwork of "Spectator Sports" and the face-melting rock exorcism of "All Hat".  The beaming "Let's Make This Easy", which emerged from a window-side acoustic exploration, is memorably muscled up with drums, bass and a hot-wire solo. Darkly surreal nugget "Husband-Shaped Man" is a studio workout framing a sweetly eerie lyric. Icily evocative "Late Great Lake Skate" is an epic, cinematic piece. Gently psych-tinged album closer "It Would Be Thank You" rolls in like a golden tide of cosmic gratitude.

Dearly Beloved described their 2006 debut album You Are The Jaguar as "chaos tempered with love and delivered with great fury," and its release heralded the arrival of a fearsome group of rock's true believers, a critical assessment underlined by 2008's Repo Repo Repo and 2010's Make It Bleed. Follow-up long-players Hawk vs. Pigeon (2012) and Enduro (2014) emerged from desert sessions at Joshua Tree's infamous Rancho de la Luno studio, a creative cauldron that catalyzed the band's mind-bending melange of stoner/shoegaze/psych/prog/punk influences into a supernatural sonic stew and elevated their game as a band. On Admission, which followed in 2016, the band drilled its songs with maniacal zeal before bottling that energy in a two-week recording blitz with Daniel Rey at Dave Grohl's Studio 606. The searing live intensity of those pivotal releases was melded with a subversive pop-savvy bent on Times Square Discount. And all of those experiences have culminated in the haunted, kaleidoscopic Walker Park. 
---
We Also Recommend