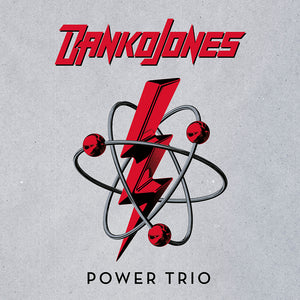 Danko Jones - Power Trio LP
Heralded by the raucous lead single "I Want Out," Power Trio — the full-throttle 10th studio album from Toronto rock juggernauts Danko Jones sees the band reunited with Canadian independent label Sonic Unyon Records, who issued the trio's first recordings and who will release the band's latest masterpiece in North America. Power Trio sees Danko Jones delivering each engine-revving riff, soul-shaking stomp, and shout-it-loud hook with a sniper's precision. It's such a simple, self-evident title, but one loaded with significance, as it speaks to the special triangular alchemy Danko shares with his trusty bass-slinging accomplice JC and drummer Rich Knox. It also stakes out the band's place on a storied lineage of three-piece titans Jimi Hendrix Experience, ZZ Top, Rush, Motörhead, Venom, Dinosaur Jr., and the Jon Spencer Blues Explosion, to name a few. 
Pressed on heavyweight 180 gram vinyl. 
Available on standard black vinyl. Also available on exclusive clear vinyl with red splatter, pressed in a limited edition run of 250 worldwide.
---
We Also Recommend