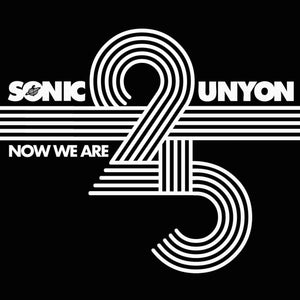 Various Artists - Now We Are 25 3LP
A quarter-century in the making, essential indie rock compilation Sonic Unyon: Now We Are 25 recaps the illustrious history of Hamilton, Ontario's iconic independent label Sonic Unyon Records. This limited edition triple-LP vinyl package takes stock of the past 25 years of releases in a special 32-track collection pressed on handsome, smoky-clear 140-gram vinyl housed in a tri-panel gatefold jacket. This historic collection arrives in a hand-numbered run of 500, each set packaged with a 24" by 24" poster spanning 144 of the label's releases from its first 25 years.

Note: Because of licensing constraints, this collection is not accompanied by a digital download.



SIDE A
Gleet "Die Alone"
Mayor McCA "I Love The Summer 'Cause I Love the Women"
Frank Black and the Catholics "All My Ghosts"
Treble Charger "Red"
Smoother "Jurk"

SIDE B
SIANspheric "I Like the Ride"
Eric's Trip "Float"
Hayden "Skates"
Tristan Psionic "Air Traffic Control"

SIDE C
The New Grand "A Flair for Sex"
Shallow North Dakota "Backbone"
Danko Jones "Sugar Chocolate"
Thrush Hermit "The Day We Hit The Coast"
Kittens "Jackknife"
Tricky Woo "Allright"

SIDE D
Chore "The Hitchhiker"
Tangiers "Keep the Living Bodies Warm"
A Northern Chorus "Winterize"
The Ghost is Dancing "We'll Make It"
Ringo Deathstarr "Imagine Hearts"

SIDE E
Oh Susanna "Oregon"
Dinner Belles "Back Home (In The Valley)"
Kestrels "No Alternative"
Slowcoaches "Living Out"
Terra Lightfoot "Stars Over Dakota"
Basement Revolver "Heavy Eyes'

SIDE F
The Dinner is Ruined Band "Bobby Orr"
Strongman "No Time Like Now"
Simply Saucer "Bullet Proof Nothing"
Raising the Fawn "You Are The Enemy"
Young Rival "Authentic"
Camouflage Nights "Five Five Minutes"
---
We Also Recommend