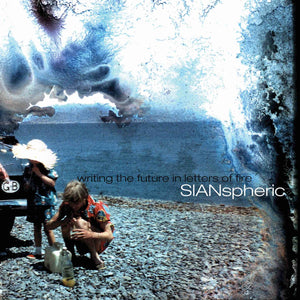 SIANspheric - Writing the Future in Letters of Fire 2LP
SIANspheric's first new studio album in 15 years, Writing the Future in Letters of Fire includes nods to the band's past and leaps forward — staying grounded, while providing dreamy whirrs and explosive noise bursts. Band members (Matt Durrant, Ryan Ferguson, Jay Patterson and Sean Ramsay) hearken back to their '90s roots on the title track, treading the line between calm and chaos, where echoes of Smashing Pumpkins meet echoes of The Verve, and on "Shimmer", which builds and builds… and builds…

Not content to stand still, the group also pushes the envelope by incorporating glorious choral accompaniment courtesy of Hamilton, Ontario's Earth, Wind & Choir on the first single, "I Have It," and Tame Impala-inspired trips on the breakdown choruses of "The Simple Exit". The psych sludge on the outro of "The Flight of the Owl" is reminiscent of Wooden Shjips and the wheels almost entirely come off during the jazz skronk of "Los Herejes" (featuring horns from Hamilton's Eschaton) or the 14-minute, untitled, live-off-the-floor freakout that closes Side D. The album is a true past-meets-future revelation.
Limited edition double vinyl pressing in gatefold jacket.
---
We Also Recommend