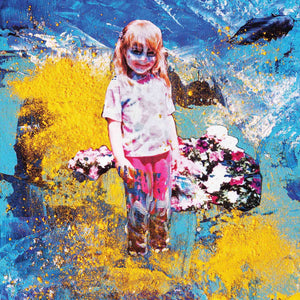 Basement Revolver - Wax and Digital EP
Limited edition opaque sky-blue vinyl feat. "Wax & Digital", "Have I Been Deceived" and "What Are You Waiting For?".
•
Basement Revolver have been crafting both noisy and graceful shoegaze-esque tracks out of their hometown of Hamilton, Ontario since releasing their 2016 breakout hit 'Johnny'. Their affinity for blending '90s-infused indie rock with fuzzy, dreamy pop and poignant, yearning lyrics has earned them a devoted following throughout their native Canada, the US and UK.

Signed to Canada's Sonic Unyon and Memphis Industries affiliate label Fear Of Missing Out for their 2018 debut album release Heavy Eyes, the band have toured throughout North America and the UK with acts including The Go! Team, The Pack A.D. and Amber Arcades.

In early 2019 they expanded to a four-piece, with the founding trio of guitarist-vocalist Chrisy Hurn, bassist Nim Agalawatte, and drummer Brandon Munro adding second guitarist Jonathan Malström to further augment and intensify their emotionally charged dream-pop.

Their new material, recorded at Toronto's Union Sound Company with producer Ian Gomes, evolves beyond the bedroomy sound of the band's previous releases while losing none of its intimacy. Guitars oscillate between soaring riffs and shimmering shoegaze ambience while the rhythm section propels like a well-oiled machine, and Hurn's vocals ring out with crystal clarity.
EP is pressed on opaque sky-blue vinyl in a limited edition of 500.
"A modern dream pop record that isn't overworked — it's genuinely unruly and complicated. There isn't a song here you won't like." – Exclaim!

"A sublime treasure and a simple example of the most splendid indie-rock you could hope to hear" – Punktastic

"The delicacy of the band's approach is matched to the intensity of their execution" – Clash

"Alvvays goes shoegaze. Dreamily drifts between featherlight fizz and gutting, rueful riffing" - Total Guitar

"Emotional and powerful rock and roll, packed with charm" - Beehive Candy

"One of the great feel-good stories of the Canadian music scene" - The Revue

"The Canadian indie rock band radiates a melancholic glory" - The Big Takeover

"Heavy-lidded fuzz pop" - Punk Online

"Shoegaze at its finest" - I'm Good I'm Gone

---
We Also Recommend