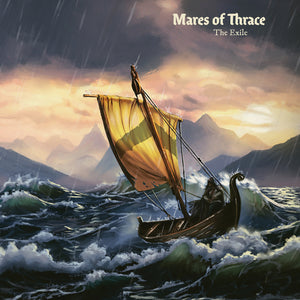 Mares of Thrace – The Exile Vinyl LP


Formed in 2009 by vocalist/guitarist Thérèse Lanz and drummer Stef MacKichan, Calgary, Alberta noise-doom duo Mares of Thrace released their debut, The Moulting, the following year. Produced by Sanford Parker (Nachtmystium, Pelican, Yob), it was critically acclaimed and a hit at campus radio, as was its ambitious follow-up The Pilgrimage, a three-act Biblically inspired tale weaving the historic melodrama of King David's relationship with Bathsheba around Lanz's grinding riffs and MacKichan's juggernaut percussion. In those two years alone, the band logged tens of thousands of miles touring across Canada and the USA and received rave reviews from noted publications such as Decibel, Terrorizer, blabbermouth and PopMatters. Newly reconstituted around Lanz and bassist/drummer Casey Rogers, Mares looks to build on their magnificent doom-metal legacy with their third full-length and first album in just under a decade, The Exile.
Limited pressing on sea-blue vinyl in a run of 500.
"The Exile leans hard into doom territory: Lanz's atonal riffs are still present, but there's a lot more room for nuance,maturity, and vulnerability." --Decibel Magazine

"A total riff feast"
--Brooklyn Vegan

"Epic and ferocious... the sound of a band in its prime"
--Angry Metal Guy

"Remarkable.... give [them] your undivided attention"
--New Noise Magazine
---
We Also Recommend