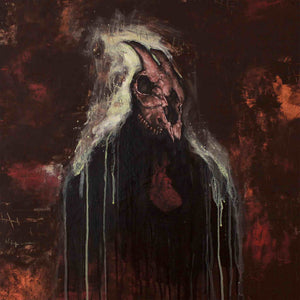 Mares of Thrace - The Pilgrimage LP
Ltd. edition red/black marbled vinyl pressing.
The Pilgrimage marks the metal debut by Calgary, Alberta noise-doom duo Mares of Thrace. Formed in 2009 by jazz-trained drummer Stef MacKichan and baritone guitarist Thérèse Lanz in their ongoing quest for musical supremacy, the band traveled from Alberta to Chicago's Engine Studios to record the follow up to their 2010 critically acclaimed debut album The Moulting with producer Sanford Parker (Nachtmystium, Pelican, Yob). The 10 tracks contained within The Pilgrimage perfectly captures the intensity and fury that these two create together as a unit. "It contains no bass guitar and no standard sized guitar," explains Lanz. "I played all of my parts on my baritone. I have a baritone guitar that was custom-built for me by Kurt Ballou of Converge that contains a guitar and a bass pickup." 
"Vicious and viscous, the sound lush and merciless…. Grieving and defiant at equal turns, The Pilgrimage is a triumph." – Exclaim!
"Mares of Thrace's second album eclipses their first, which is a significant feat given that their debut was phenomenal....  Pilgrimage is raw and ragged bliss, a testament to the enduring might of two likeminded musicians locking into the most visceral of grooves." ­– PopMatters
"The Pilgrimage is the best kind of sophomore outing: same man-eating, fire-spitting Mares, now with razor hooves and venomous spines for a mane" (8/10) - Decibel
"A much busier, more dynamic effort than its predecessor; one that never fails in its considerable ambition"  (8/10) - Magnet
"If you're a sucker for that doom and sludge combination or crave that dark and evil atmospheric sound while also demanding some technicality, then there really is no reason to not pick up The Pilgrimage"  (8.5/10) – AxisOfMetal.com
"Dare I say Canada's #1 metal album of the year for a second time?" (9/10) – Thisisnotascene
"Another essential, formidable release for 2012 that knocks most other bands into the dirt" (9.5/10) – Doomantia
"The Pilgrimage is a defining work that captures the full dimensions of the band's artistic vision. Easily one of the first essential albums to come of 2012" - Bonereader.com
---
We Also Recommend